Eislermaterial
Heiner Goebbels (DE)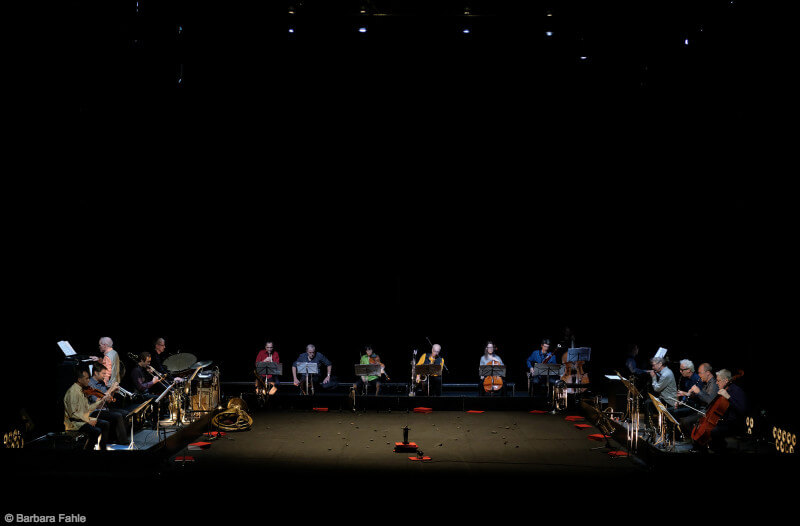 "I believe that my decision to make music professionally has much to do with his [Hanns Eisler's] work. […] I was fascinated by the entire breadth of topics discussed by Eisler, including literature, politics, mathematics, philosophy, the visual arts, and music of course …" (Heiner Goebbels)
In the former GDR during the 1950s, Hanns Eisler succeeded in breaking up the social isolation of modern music; many of his works were written – in conscious reference to functionality and other arts – as ›applied music‹. He gave particular emphasis to the fields of mass songs as well as choral, theatre and film music. In 1998 Heiner Goebbels created a homage related to Eisler's oeuvre in its complexity, commemorating the 100th birthday of Hanns Eisler.
Goebbels uses the entire breadth of Eisler's oeuvre in ›Eislermaterial‹ – a staged concert featuring some of Eisler's most famous songs which Goebbels edited and arranged for performance by the Ensemble Modern and juxtaposed with original Eisler audio files in a collage. The songs are performed by the actor Josef Bierbichler, whose voice is unmistakably unaffected and simultaneously touching. The Ensemble Modern soloists are involved in different ways: »a staged concert, a portrait in sound which is completely enthralling in its strong atmospheric effect« (Neue Zürcher Zeitung, May 25, 1998). Since its premiere in 1998, the Ensemble Modern has performed the piece over 60 times all over the world.
Moving visions on the Portikus from 7:30 pm
Your visions move us! Three of the four Boheme2020 artists* present an interactive, improvisation-based performance of sound, magic and contemporary dance. The audience is invited to share their visions and set the artists* in motion in the truest sense of the word.