Cyber Attack: Digital Art and Activism
An international online conference by NORDWIND in collaboration with FuturePerfect Studio, Denis Semionov, Kampnagel and HYBRID Biennale/HELLERAU - Europäisches Zentrum der Künste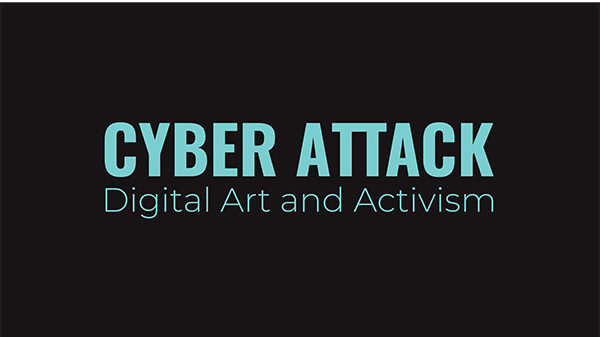 In the last decade, technological innovations have expanded aesthetics and modes of representation in art, communication and discourse formats worldwide. These technologies have not only changed the behaviour of audiences, but also allow artists to interact more directly and internationally with their audiences and to network with other actors despite great physical distances.
The current precarious world situation makes these innovations and their possibilities all the more important. Artistic productions are under permanent threat, public gatherings are restricted, new forms of surveillance are possible, many actors are forced to flee or migrate due to the threat of violence. Decimated and dispersed creative communities are left behind, facing an information war that can put an end to their freedom of speech at any moment and leave any actor isolated – with a constant feeling of insecurity that is strikingly different from the one at the beginning of our century.
CYBER ATTACK: DIGITAL ART AND ACTIVISM explores how and under what conditions artists use new technologies to build powerful narratives. Narratives that find appropriate responses to progressive economic, climatic and political crises and enable new communities and alliances. CYBER ATTACK: DIGITAL ART AND ACTIVISM brings together artists, curators, scholars and producers from Russia, Ukraine, Belarus and the USA to share their approaches to new art production, power structures and creative responses to pressing issues of our time. This ranges from Chico MacMurtrie's activism robot processions and interventions along the US-Mexican border, to Theo Triantafyllidis' AI-driven simulations and LARP (Live Action Role Playing) performances dramatising scenarios of the Civil War in the US. From AES+F's mixed reality installations to Tosca Terán's immersive concert of electronic music in collaboration with a living mycelium that addresses ecological aberrations and environmental awareness.
All information at www.cyberattack.nordwind-festival.de
CYBER ATTACK: Digital Art and Activism is an event by Nordwind Festival. Supported by Fonds Darstellende Künste with funds from the Federal Government Commissioner for Culture and the Media within the framework of NEUSTART KULTUR and the Checkpoint Charlie Foundation. In cooperation with FuturePerfect Studio, Denis Semionov, HELLERAU – European Centre for the Arts and Kampnagel.