1:1 CONCERTS NIGHT
Staatskapelle direct – 24 h HELLERAU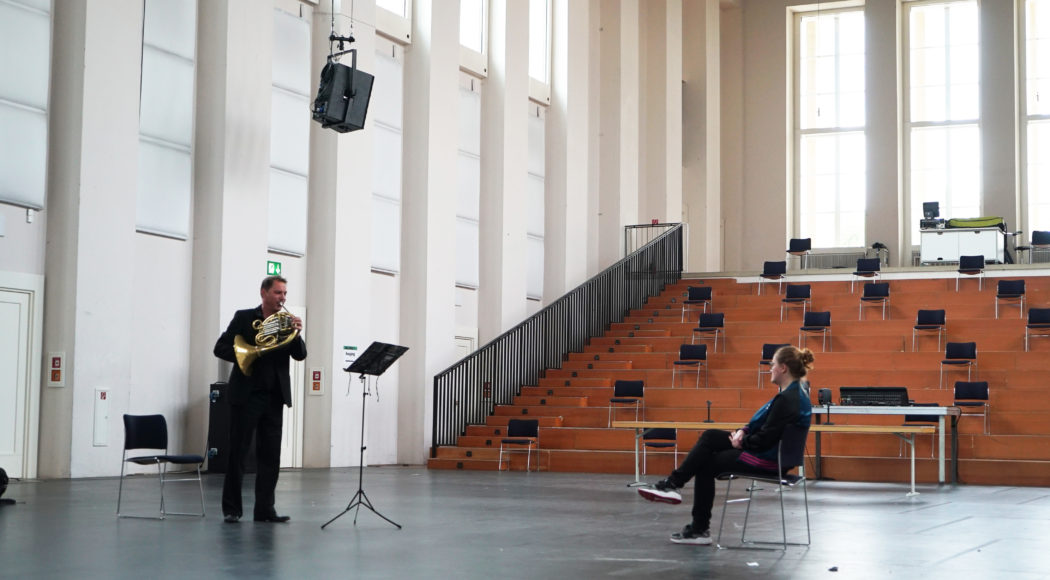 In the current situation, concerts are almost entirely digital. The Sächsische Staatskapelle Dresden also had to end its 2019/2020 season. The need for genuine personal contacts and directly shared musical experiences is therefore greater than ever. The Stuttgart initiative 1:1 CONCERTS offer the possibility for a real concert experience, which is feasible under consideration of all applicable corona protection measures.
The concept
At the 1:1 CONCERTS, a wordless one-to-one encounter between listener and musician takes place for about 10 minutes. An opening extended eye contact is the impulse for a very personal concert – an unusual, intensive experience for both sides, which makes closeness possible despite distance. Who plays and on which instrument – that remains a surprise. Even with the venues, unusual terrain is sometimes conquered. Various hosts make their concert venues available for this purpose. The experiences can be shared under the hashtag #1to1concerts in the social media.
The goal
The aim of the 1:1 CONCERTS is to make a substantial contribution to the preservation of the cultural landscape by bringing together musicians, listeners and hosts through coordinating institutions: the participating musicians play without remuneration; admission is free. Concert visitors are, however, encouraged to make voluntary donations, which flow directly into the emergency aid fund of the German Orchestra Foundation. The money will be used to support musicians who have lost their income and are threatened by the Corona-related cancellation of all concerts and performances.
The idea
The 1:1 CONCERTS was developed by musicians from Stuttgart, who presented the 1:1 concert format for the first time at the chamber music festival "Sommerkonzerte Volkenroda". In the Volkenroda Monastery the 1:1 concerts in 2019 touched many people. Further information can be found at www.1to1concerts.de.
Which instrument awaits you will be decided by chance. Only one person is admitted per date. Participation is at your own risk; all applicable distance and hygiene regulations are observed.
In HELLERAU, musicians of the Staatskapelle Dresden will for the first time be present for a whole night with 1:1 CONCERTS: at sunset in the corner salon, at midnight or at sunrise in the Great Hall, at the blue hour in the garden … It will be a very special edition and at the same time a conclusion to the Staatskapelle Dresden's 1:1 CONCERTS, which have been successful for several weeks now.