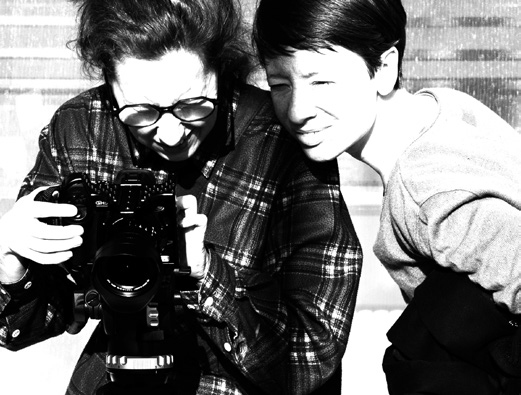 The flow of time, #2 – 2020
Anna Till (AT) and Barbara Lubich (BL) are two of 21 artists* who are conducting a research residency at TANZPAKT Dresden this year. On the ships of the Sächsische Dampfschifffahrt they wanted to do research on the topic of "time". Then Corona came and the ships stopped sailing for the time being. They talked about their research with Christoph Bovermann, artistic production coordination TANZPAKT Dresden, and Karin Hildebrand (KH), managing director of Sächsische Dampfschifffahrt.
At the residencies of TANZPAKT Dresden, artists* meet partner institutions to conduct research on a specific topic. This was and is an experiment for all of us. What expectations did you start the project with?
KH: I had no expectations at first, but when I heard about the project, I found it very exciting and wanted to know where it might lead. Under the changed conditions we had to find completely new ways and means. I thought this process was great.
BL: We had expected to spend a lot of time on the ships. We wanted to experience the flow of time, the flow of water. Then everything came completely different and we had an experience of time that didn't just affect the people on the boat – suddenly the whole society was sitting in a boat and sharing extreme experiences with time. Nobody could get out of it.
How did the research topic "time" come about?
KH: For me, the subject of time is very exciting because time on a ship is completely different from time on land, regardless of whether it's a steamboat, hotel or container ship. Unfortunately, we have to lure people to the ship with additional programs, even though shipping is a very special experience in itself. This time on the ship can simply be taken away.
BL: In our last work together ("parallel situation", 2017) we dealt with capturing the moment and the possibility of remembering. Our new project "EXPERIENCING TIME or How to stand still?" focuses on the individual perception of time. Life span, impatience, aspects of efficiency, the relationship between working time and leisure time or the longing for a place outside of time measurement – the question of how to deal with time concerns everyone. We want to juxtapose everyday experiences of time with special experiences with time and give the audience the opportunity to enter a time hole.
How was the residency time for you?
KH: Originally I thought that I would be able to hand over the project to my staff* much faster. Due to the greatly changed circumstances, I suddenly had the capacity to deal with their artistic work and to accompany them a little bit. Together we could then improvise and find a new way for the project. I was really sucked into the project and I am grateful for that. This is also my life experience: You can plan a lot, but the plans usually never work out – you just have to stay flexible.
AT: The residence was really a luxury for us. The need for artistic research is often present, but there is no time, no money for it. It's more likely to take place on the spur of the moment or in preparation for a project application. Now we had time to get involved in the Saxon Steamship Company. A partner who is not primarily based in the artistic field and who has given us completely new perspectives on our research topic.
What is the difference between artistic and scientific research?
BL: Perhaps science and art are not so far apart, but we have greater freedom in dealing with the research material. Our interest was in researching the individual perception of time and how we can reproduce or change it. We had many conversations and asked our interview partners very personal, even absurd questions. In contrast to a scientific approach, these questions were allowed to give direction.
AT: There is room for fantasy, for science fiction, for exaggeration and humor. Our research is not measured by scientific results, but follows our interest as artists.
What do you take with you from this time?
KH: The ships are a cultural asset, so I would like to see a lot more artistic activities taking place there. I hope that with this project we were able to stimulate reflection on the cultural use of the ships. Perhaps it will also open up new creative possibilities for some of our employees. However, the basis for this is that the ships are recognized as cultural assets. If I always have to generate income, I have neither the time nor the space to support such initiatives. But I find this question exciting: What else can we do with the ships?
In January 2021, the TANZPAKT residents and other choreographers from Saxony will meet at the Winter Academy in HELLERAU to reflect on the results of their residencies and to exchange ideas about artistic work processes. In autumn 2021 TANZPAKT Dresden will present ten world premieres in a major festival in HELLERAU and at the Villa Wigman.
Under the patronage of the City of Dresden, Office for Culture and Monument Protection, the Villa Wigman Association for DANCE and HELLERAU – European Centre for the Arts cooperate in "TANZPAKT Dresden". Supported by TANZPAKT Stadt-Land-Bund with funds from the Federal Government Commissioner for Culture and the Media, the Saxon State Ministry for Science and the Arts* and the City of Dresden. With thanks to the Volker Homann Foundation. *This measure is co-financed by tax funds on the basis of the budget passed by the Saxon State Parliament.